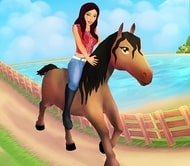 Your new adventure is starting right now. And today you won't be alone, because your beautiful horses are ready to compete in the exciting racing!
This game is all about horse racing. In the beginning of every level you are able to choose the horse, improve its skills and learn controls. They are pretty easy here – you need to speed up, balance and swim in rivers.
During the whole ride you have the opportunity to collect coins. They are necessary if you want to upgrade the skills and purchase new animals for the racing. Remember that the more expensive it is, the quicker you will get to the finish line. And developers made sure you have enough maps to be able to practice your skills, have fun and reach the highest level.
Don't forget about the score. You can make records if you come to the end of the track faster than other users, so watch the timer on the screen and don't stop. And according to the score you made you will receive the stars. Try to pass all the quests and get a gold star to become the most skilled player.
The locations also change – on the difficult levels you will meet high trampolines, deep holes and huge pools. Time to discover what you are capable of! Grab your keyboard, wait for the start and go!