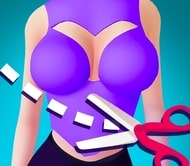 Start and develop your own brand in the world of lingerie making. Create an unsurpassed combo which can satisfy the tastes of the most sophisticated and demanding customers.
Decorate your bra with a variety of ribbons and come up with a color scheme that will not leave a single person indifferent. Try on your samples on models and arrange a real fashion show, thanks to which you can find the owner for your set.
The game develops not only imagination, but also entrepreneurial veins. Come up with a highlight of your bra that you will be proud of and that will represent the quality of your lingerie line. Surprise everyone with your vision and make the entire fashion elite want your products. Pay attention to the details, because they attract owners.