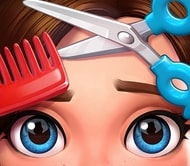 If you wanted to try yourself as a stylist and work with people, then Project Makeover is what you were searching for! We know you like to create stylish looks for the characters, but in this product you will also try to satisfy them with the outfit you made.
So here is your first client. She needs the special outfit, because today is her long awaited date! The mission is difficult, but also – exciting and interesting. So you start by preparing your client for the makeup.
Then, choose lipstick, eyeshadow and other parts of the makeup that look perfect on her. The hairstyle can't be forgotten either. So make sure to pick the one that looks gorgeous on her. And the last step is her outfit. Choose every part of it including accessories, and your customer is ready for the lovely event.
Sometimes you need to choose furniture and transform the customers' old apartments into their dream homes. After a successfully completed mission you receive a big reward that you are able to spend on different improvements for your studio and useful things you can find in the special store.
So, you received all the necessary instructions, and it seems that your second customer is knocking on your door. Let's get started!