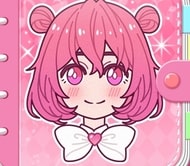 This cute dressing game allows you to not only create your characters, but choose backgrounds and make cool photos to share them with friends!
The simple and interesting mechanics will please all the players. First, you need to choose the personage. It can be a handsome boy or beautiful girl – you are the one who decides! You can change every detail of their appearance starting with the lips and eyes. And of course, don't forget about clothes and hairstyles.
After matching a stylish hairstyle with fashionable outfits and cool accessories you are able to enjoy the completed look on your character. Don't worry, even the smallest details like boots, hats and socks are included in this huge wardrobe. Choose the colors of the clothes and paint your hair to make bright looks. And the walkthrough doesn't end on this.
You can get the background from the list, try different useful instruments to create the perfect picture and make the photos you want. Save them to your device or immediately share with other users! Pick another character and start again with new ideas, because the amount of tries is unlimited for you!
What are you waiting for? Try yourself as a professional stylist and show your skills!