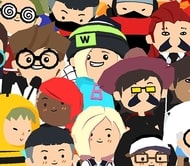 This huge world full of interesting people and exciting quests is at your disposal. All you need to do is to create your own avatar and press the start button.
You start the game by making your personage. Choose the clothes you want and design the perfect outfit for it. The accessories and stylish hairstyles are also available for you. Make your character unique and beautiful and begin your interesting life. You spawn in an unknown place around different buildings and people walking there.
You have your own home that you are able to decorate the way you want. Purchase cute furniture and decorations, so your house will look cozy. Some items are expensive, so you need to earn money to buy the furniture of your dreams. But how can you get money? It's simple and exciting – you complete different quests and participate in various events to get coins.
You can also communicate with other players. They are wandering around searching for new friends. And you are able to become friends with them, arrange parties and have fun in your houses. Explore the spacious locations that developers added to this world.
So let's start your fascinating journey from making your avatar. Enjoy your pastime on this site!