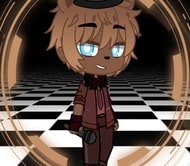 What if we tell you that in Gacha Life PC you are able to create the characters from every other product and direct different scenes with them? Including the scary antagonists from this popular horror that every gamer is talking about. Don't believe us? Let's see!
In the beginning of the game you are able to make your own personage. Developers made sure you have enough instruments to make the hero you want. So you have the opportunity to choose not only the outfits and hairstyles, but the facial expressions too.
Make a stylish boy with blue eyes and blond short hair, or a beautiful girl with shining makeup and cool ponytails. And don't forget about matching accessories, because they are a must have in every look.
If you don't want to waste your time on the preparations, and wish to start to play now, you can just choose the personages developers created for you and change the necessary parts of the appearance. Remember that you need the special costumes for your scenes, so think about it when you design their outfits. But what to do next?
After you are ready, start creating the background. You are able to pick the place where all the events will be, items you need to decorate the background and other parts of the scene. If you need a cute pet, don't worry, you will totally find one in Gacha Life. It will happily play with you in the scene, or just stand near.
What about a bicycle or a car? Not a problem! Write the dialogues for your story, turn on the narrator and start recording your film. Tired of the filming process? Try the dynamic battles with powerful bosses on the special battlefield.
Improve your skills, pass the whole story and reach the final in this fight. And try other battle modes that are available for you. You can even try to defeat other players and discover who is the best fighter in this arena. Enjoy your pastime on this site and try every activity here. And have fun with other users and their characters.