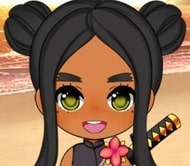 What can be better than dressing cute anime girls in beautiful clothes and relaxing after a tough day? Nothing! And Chibi Maker will prove this to you.
The main menu contains a bunch of different instruments that will help you create the character and dress her. Start from the color and the shape of her body. Pick the ears and nose shape, think about the perfect eye color and lips. Before you start choosing outfits, you need to decide about the hairstyle.
Take a look at long ponytail and curly hair, cool braids and short bob. The huge palette with any shade of the rainbow is at your disposal, and with its help you are able to paint your hair with different colors. But dressing her is the most interesting part of the process.
Luxurious shirts and adorable skirts, classic costumes and comfortable sport outfits – everything that is available for every player in the wardrobe. And what to say about magic looks and wings! They are beautiful and shining and can become the perfect accessories for your gorgeous outfit.
The amount of stylish accessories amazes all fans, so you need to check it and see yourself. It's time to create the real masterpieces! And just imagine how the photos of your girls will look!