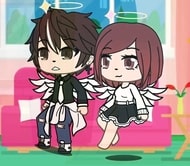 Your favorite anime personages are already here waiting for you. And during this game you will together participate in exciting battles and record interesting films and videos for your fans.
The second version of this popular product will surprise you with the new mechanics and upgraded graphics. So let's look at the instruments developers added for you to make your wishes come true!
What characters can you make?
In Gacha Life 2 you have the opportunity to create whatever personage you want. Start with the facial expressions, body shape and hairstyle. The special instruments help you make a unique hero with a cool appearance. Eyes color, nose shape, piercing in the ears – pick every detail of your character to make it unique and beautiful.
Want the sporty guy? Pick some comfortable trousers and t-shirt. And for the girls developers also added sport costumes, dresses and skirts. You can find stylish outfits for every event and scene. Finish the look with the matching accessories and start making other heroes. Yes, here you aren't limited to only one personage.
Create the heroes and pick the ones that developers have already prepared. Why do you need so many personages, you ask? Because you are going to direct a real film with them as main characters.
Films and battles
You can find a bunch of useful items for your videos. If you have an idea, you just need to search for the right background and decorations. Find any type of furniture, vehicles and cute pets and place them in the right spots. Then, think about what your heroes will do in the scene.
Prepare their dialogues and thoughts, turn on the narrator if you need and start this interesting process. The game allows you not only to become a filmmaker, but to try your powers in the dynamic fights. Go to the arena and pick one of the four modes. You can battle with other players and compete with them. Or you are able to complete the whole story and try to defeat powerful bosses.
Grab your swords or other weapons and show all your skills on the battlefield. Are you able to reach the final and win against all the bosses that are waiting for you? Gacha Life 2 also has cool music, so every fight will be exciting and cool. Test other activities available for you, find new friends and participate in all events. Enjoy your pastime!