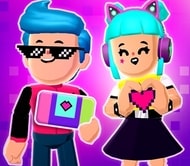 Immerse into this virtual world full of exciting activities, interesting people and cool opportunities. Everything that is available for you on this site!
But first, create your personage. The built-in instruments allow you to make the hero you want, dress it and create various stylish looks. Don't worry, if you want to try other cool clothes, you can visit the wardrobe any time, purchase necessary costumes and dress your character in them.
When you are ready, you can start exploring this huge and interesting world. Visit all the houses you see around, meet new friends and complete fascinating quests to earn money and spend it in the store. You are able to build your own cozy house and decorate it by buying the furniture and other useful items in the shop.
Want an adorable pet for your home? Go and find your new best friend in the store. Take care of your pet, wash it, feed it and purchase cute accessories for it. And don't forget to visit the common areas where you are able to meet many players walking around, chat with them and spend time having fun together.
The PK HD is waiting for you! Go to the party, swim in the pool, eat delicious meals and watch beautiful sunsets with other users. Enjoy!