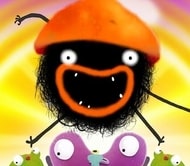 This game will surprise you with the unique graphics and interesting mechanics. And here you have only one mission – to get back your delicious cherry.
You become a small black creature with a yellow hat. Everything starts when something steals your cherry and runs away. That's where you begin the first level and need to learn the controls. At first, you will just move and learn how to step quicker or slower. But the more you pass, the more complicated the mechanics become.
You receive different options, and need to choose one. For example, speak with other personages, or try to use various items around you. Lengthen your arms, legs and the whole body, collect different objects and use them in the right places. Complete these exciting quests and get to the final to receive your cherry back.
The locations and heroes will become weirder, and the quests and riddles – more difficult, so you won't get bored during the whole walkthrough. You meet creatures with strange shapes like stars, insects, different monsters and objects. Communicate with them and show your intelligence and other skills!
Do you understand the task? Great! Now press the start button and meet the first characters on your way.