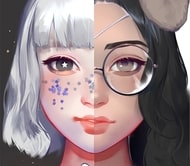 Want to create yourself in the virtual world? Or maybe, you want to try to make different celebrities, your friends and other people? Then this game will help you!
You have a well-detailed face that you are able to change according to the image you created in your head. Customize every part of its facial expression. You have the opportunity to pick different types of eyes and decide about their color. The shape of lips and nose can also be changed.
Scroll through the menu and pick the ones you like the most, try them on your personage and decide which of them will be perfect for the upcoming look. The same goes for hairstyles. Any type of hairstyle you know is available here, including the braids and curls. And of course, the color of your hair is your choice.
Don't forget about the beautiful accessories for the head. It can be a gorgeous hat, shining earrings, cute hair pins or cool bandana. The stylish makeup is your next step. This is where your fantasy and creativeness aren't limited. In the end you are able to take photos and start creating other characters including men.
Enjoy your pastime on this site. You don't need to complete difficult quests and battle with enemies, so you will totally relax!