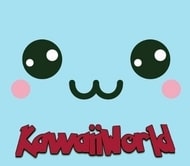 Who doesn't like to build various constructions, explore the forests and deserts and search for necessary resources. In KawaiiWorld every player will find something to entertain themselves with!
The builders are able to use different types of wood, bricks and other blocks to create houses, farms and other constructions. And even the whole city is possible to be made here!
But first, you need to get all the resources and craft necessary tools. For this purpose you should explore the places around you and search for wood, stones and other blocks that can help you build.
Dig deep into the earth, chop down trees and search for iron and coal in the caves. For the first set of simple tools you just need stones and wood, but remember that to move forward and be able to live peacefully in your house you should find gold and even diamonds.
Get the food by hunting animals and harvesting. And don't forget about the protective clothes. Sometimes you will meet different enemies and battle with them. Carry strong swords, shields and arrows with you to protect your character from any danger!
The main feature of this product is these cute textures. But users of all ages will totally enjoy the walkthrough!