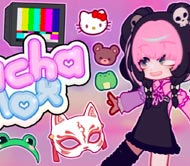 The main distinction between the mod and the original version of the game is the additional choices for character customization. You can now adjust practically anything, from your character's eye color and cut, eyebrow shape, lips, nose, and so on.
You can also select a hairstyle out of the many options available and pick the clothes for your anime hero, which is a huge selection. In Gacha Nox there are T-shirts with unique logos, pants and shorts, jackets and coats, shoes, caps, hats, and more. Furthermore, there are numerous accessories to choose from, to make your new friend truly individual.
You can also customize your character's posture and pick out a special pet. After taking part in the arena battles or creating scenes in the studio, you can also play mini-challenges if you get bored. Gacha Nox will be enjoyable for anyone who enjoys something to do with dolls, dressing them up however they want, and controlling them through various scenes.
You can show off your imagination and directing skills by creating different scenarios and having a great time with this game! Here everyone can be creative and use all the ideas. Try to make your long-held dreams come true! Enjoy the atmosphere that you create!