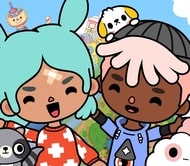 The universe was invented especially for you by the developers. Here you can travel between different places or build relationships with other users. By the way, do not forget to create your ideal player with whom you will live your little life.
Lots of bonuses and tools to help you imagine and create your own house or even a village. You can get a pet and take care of it with your friends. You can also go to a hospital, cafe or amusement park to make your everyday life more varied.
How your day will pass in this virtual space depends only on your decision. Amazing animation that will help you plunge into the creation and development of your own story. Simple control that will make your imagination go fast and help you to dive into full development of your ideas.