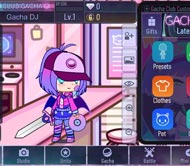 In this mod, players can feel like creators! In Gacha Cute everyone will be able to relax and have a lot of fun! You can create and customize more than 90 different characters to start the game. In the editor you can create characters with hundreds of poses, clothes, hairstyles, facial features, expressions, pets.
Show your sense of style and taste to get the perfect result! The basic process and idea does not change. For this reason, you will be able to observe the original plot, but with more access to all items. Understand how you want to arrange all the scenes and achieve what you want!
There will be a great atmosphere here while you play. Nice colors and music will give you more imagination and motivation! These avatars can then be brought to life in the scene editor! You have the opportunity to bring all the ideas you've been holding. Let it be the best story possible!
In addition, the developers have also included an automatic combat mode and four mini-games in which you will see your heroes. Players can also choose the scenery to get the perfect backdrop. Create dialogues on any topic and see what happens! In Gacha Cute, it all depends on how interested you are! Feel like a producer and designer!