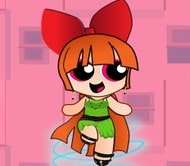 This story will tell you about super hero girls! They are always ready to save the world from evil! One of them decided to radically change her image. Let's help her do it!
You have to demonstrate your talents and do quality work. Start by choosing clothes. There are different types of dresses that will emphasize the uniqueness of the girl.
Next, choose shoes that will perfectly fit the look. Don't forget to choose a hairstyle and adjust the color. You can also add accessories here, such as earrings. Don't forget to add a hat or cap if needed! Perhaps her girlfriends will also want to change something in themselves.