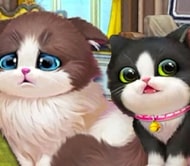 Your favorite puzzles have now teamed up with kittens to create a single space. Now three-in-a-row collecting has become even more fun and entertaining with fluffy pets.
Kitten Match is a huge world of opportunity where you not only have to be focused on acquiring new skills and scoring points, but also making sure your furries don't need anything. Well, it's also a good opportunity to relax between levels and do something pleasant.
Feed and care for kittens, and then go back to new victories. Beat your own records and get bonus levels in Kitten Match that will bring you many useful boosters. Once you understand how everything works here, you won't be able to stop. Unleash the atmosphere of competition and puzzles along with little animals that are already rushing to your aid.