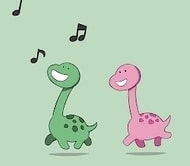 The game is suitable for those who can be quite focused on what they are doing. Simple children's entertainment becomes a real challenge for those who want to achieve their goals. Catch the pieces on the screen to make the dinosaur's neck really long.
Follow the rhythm of the music as you move across the screen. This is very important, since the mood of your dinosaur depends on it and whether it will obey you. Move your character following the music in order to collect enough points.
They will be displayed on your screen to help you keep track of your progress. Now you have your very own little green friend who really wants his neck to be a little longer. Will you help your character? Enjoy a variety of audio tracks as you catch the beat with Dino!